Beier Howlett is pleased to announce that Attorney Mike Gibbons has been named a "Go To Lawyer" in Business Law by Michigan Lawyers Weekly.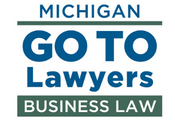 A "Go To Lawyer" is recognized for the following:
A lawyer who is an expert in his or her field, well-versed in the nuances of the case law, statutes and regulations clients will encounter.
A lawyer who is experienced and enjoys a record of success, with many cases and/or transactions that give testimony to the quality advice he or she can provide.
A lawyer to whom other lawyers make referrals because of his or her expertise and accomplishments.
A lawyer who can think creatively and identify all options for a client.
A lawyer you would name when a friend from another state calls and says she has a client who needs some legal help in a given part of our state.
Mike is a shareholder with Beier Howlett as well as the Chief Executive Officer. He specializes in business and commercial law and litigation. Mike has a diverse client base that includes nonprofits; closely and privately held businesses; and publicly traded corporations. He regularly counsels clients on a wide range of business matters, including business formation and succession planning, corporate governance, buy-sell agreements and minority protections, complex transactions, employment matters, and buying and selling businesses.
Mike also has extensive experience representing businesses (and their owners) in litigating complex business and commercial disputes. Those matters include purchasing and supply disputes, business break-ups and shareholder/member litigation, trade secret and noncompete litigation, debtor/creditor disputes, and employment litigation.
Mike received his bachelor degree from the University of Michigan and is a graduate of the Detroit College of Law where he earned his J.D.
Mike is an expert in the field of business law and is very deserving of the honor of being named a "Go To Lawyer" in Business Law. Congratulations, Mike!
---
Related Articles