Fourth of July is upon us which means firework season is in full force! It is a time to gather with family and friends, enjoy a BBQ, light off fireworks, and take in the beauty that Michigan summers offer us. If you partake in lighting off consumer fireworks, it is important to ensure you are complying with Michigan laws regarding them.
The Michigan Fireworks Safety Act of 2011 was amended in 2018 to allow government entities to put in place their own local ordinances restricting the days and times that consumer fireworks are allowed to be ignited. So, it is important to check with your city, township, or village before setting off any consumer fireworks.
You must know that there are only certain times of the year that you are legally allowed to ignite consumer fireworks. Michigan states that you are allowed to ignite them after 11:00am on the following days throughout the year:
December 31 up until 1:00am on January 1st
Saturday and Sunday before Memorial Day up until 11:45pm
June 29-July 4 up until 11:45pm
July 5 (only if it falls on a Friday or Saturday) up until 11:45pm
Saturday and Sunday before Labor Day up until 11:45pm
Fireworks are to only be sold to individuals 18 years of age and older and the fireworks must meet the Consumer Product Safety Commission standards. Licensed dealers must comply with these standards.
You are only allowed to ignite consumer fireworks on your own private property. It is illegal to ignite them in the following public places:
Sidewalks and streets
Church property
School property
Someone else's property without their permission
The help ensure the safety of everyone around and personal property, DO NOT ignite consumer fireworks if you are under the influence of alcohol or drugs. In the event that a firework causes property damage, serious bodily injury, or even death, the responsible individual could be charged with a misdemeanor or even a felony. Punishments can include up to 5 years of jail time and/or a fine of up to $10,000.
The following are the consumer fireworks that are legal in the State of Michigan: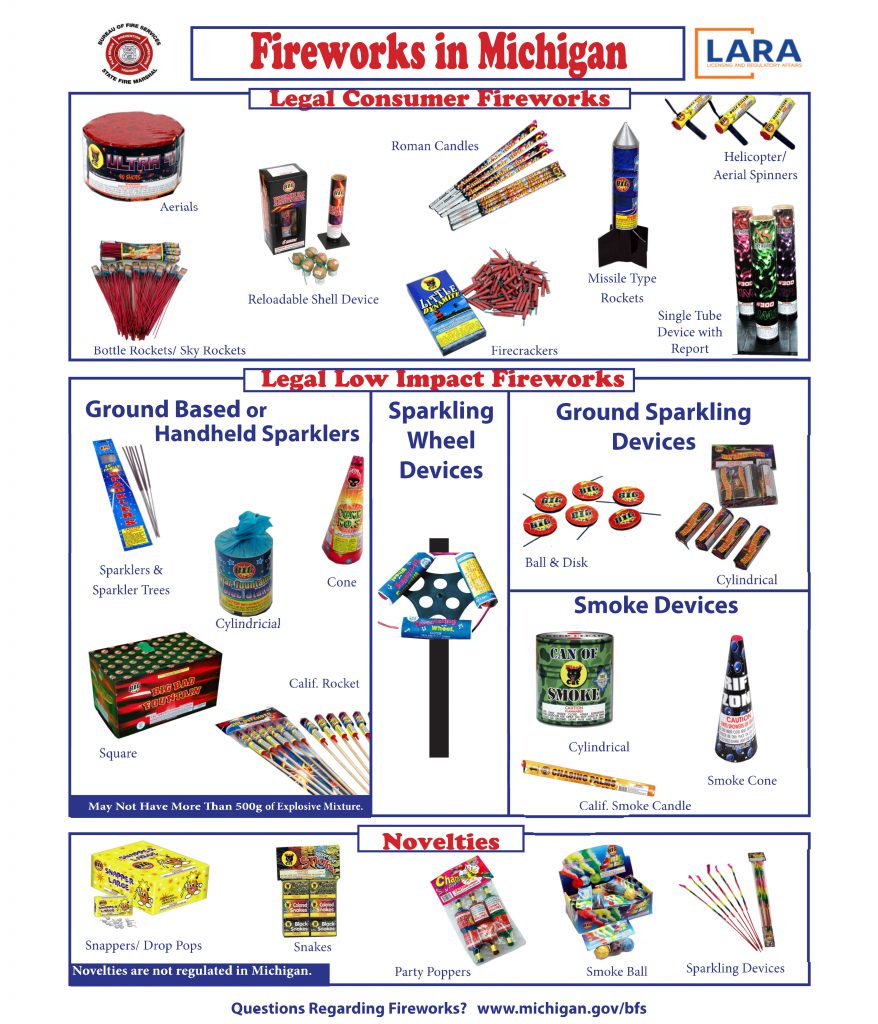 Please review the following safety reminders by the State of Michigan regarding consumer fireworks before partaking in the festivities this coming holiday weekend.
ALWAYS:
Follow the manufacturer's directions.
Have an adult supervise all types of fireworks.
Light fireworks outside on a paved surface at least 25 feet away from houses and highly flammable materials such as dry grass or mulch.
Keep people and pets out of range before lighting fireworks.
Keep a bucket of water or a hose handy in case of a fire.
Be respectful of your neighbors.
Douse spent fireworks in a bucket of water before discarding them in the trash.
NEVER:
Buy fireworks wrapped in brown paper or use unlabeled fireworks (they are for professional use only.)
Make or experiment with homemade fireworks.
Hold a firework while lighting it (handheld sparklers are an exception.)
Point or throw fireworks at other people.
Try to re-light a dud firework that did not ignite properly. (Wait at least 20 seconds and then submerge them in a bucket of water.)
Carry fireworks in a pocket or shoot them off in a metal or glass container.
Written by Monika Koleci
---
Related Articles