Estimated reading time: 3 minutes
Toss out the liability waivers and replace them with an increased insurance policy? According to a recent decision by the Michigan Supreme Court, the traditional pre-injury liability waiver, signed by parents to allow their child's participation in a range of activities, will no longer hold up in court.
Although the liability waiver has long been the accepted release form for organization hosting activities from day camp to travel sports, on June 18, 2010, the Michigan Supreme Court held that a pre-injury waiver is unenforceable under Michigan's common law. The Court noted that a parent or guardian has no authority to bind his child by contract (absent special circumstances), and a parental pre-injury waiver is a contract. Michigan's common law rule is that a minor also lacks the capacity to contract for his or herself. The court also held that it is clear a minor cannot empower an agent or attorney to act for him in Michigan.
The case, Woodman v Kera LLC, 2010 Mich LEXIS 1125, involved a five-year-old child who was injured after falling off an inflatable at a birthday party held in a Bounce facility. Although the parents signed a waiver before the child engaged in the activity, they were able to successfully sue the facility for negligence after the injury.
Ramifications of this decision are expected to be far-reaching, as organizations of all types are left open to liability. From school districts hosting field trips to soccer teams traveling to games, the hosting organization is no longer protected by a parent's signature on the pre-injury waiver.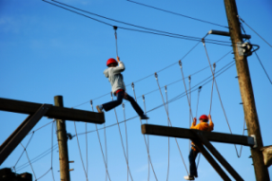 Although a 2009 Estates and Protected Individuals Code (EPIC) proposed parents be allowed to sign enforceable waivers, the code was adopted without this provision. A child can be bound by a parent's act when a statute grants that authority to a parent. Legislation to modify the common law rule at issue was introduced into the Legislature on May 19, 2009 – HB 4970. On March 10, 2010 the House Judiciary Committee reported the bill with a substitute and recommended that the House of Representatives adopt the statute. The HB 4970 would add Section 5109 to the EPIC. However, as of July 26, 2010 the statute has not been adopted.
Justice Young, in dicta, suggested that perhaps an alternative to the pre-injury liability waiver is a parental indemnity. However, the other Justices commented that such issue was not before the Court and would likely be held to directly contravene the compelling policy reasons that exist for the historic common law rule. Furthermore, courts in a number of States have held that such indemnity agreements are unenforceable because they produce the same effect as parental pre-injury liability waivers.
Currently, with no clear solution to the liability issue at hand, organizations hosting activities for minors should consult with their attorneys and insurance providers to determine how best to protect themselves from claims of negligence, whether it be through additional safety measures or insurance coverage. Liability waivers should continue to be used in the interim to inform your clients of the risks involved in participation. Beier Howlett will keep you informed of any updates to the EPIC that would offer solid legal protection to your organization.
Contact attorney Peter Gojcaj for more information.
---
Related Links