Find Us On Facebook!
Beier Howlett is now on facebook! For regular updates, news and information from the firm, we invite you to "Like" us on our facebook page.
Judge Eugene Arthur Moore Joins Beier Howlett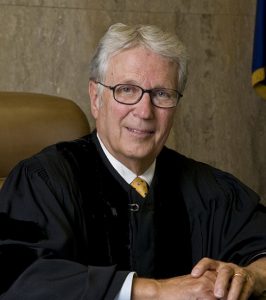 After serving for more than four decades on the bench of the Oakland County Probate Court, the Honorable Eugene Arthur Moore (left) will return to our firm as an attorney of counsel.
Peter Gojcaj Named Partner
Peter Gojcaj has been named Partner at the firm. He is a member of the business law practice group, and a founding member of the newly formed Albanian American Chamber of Commerce.
Michigan Environmental Law Deskbook Information
The Michigan Environmental Law Deskbook is now available online at www.envdeskbook.org. Jeff Haynes served as co-editor and contributing writer for the Deskbook (second edition). As a free service of the State Bar of Michigan, it provides up-to-date legal analysis of environmental law issues and hyperlinks to environmental statutes, rules and cases.
CONGRATULATIONS
Beier Howlett has been named to the inaugural edition of the U.S. News Best Law Firms rankings.

Three firm attorneys were also selected by their peers for inclusion in The Best Lawyers in America®:
Tim Currier, CEO of the firm, was named in the field of municipal law;
Jeff Haynes was named in the field of environmental law;
Stephen Jones was named for probate and estate planning.
Stephen Jones of the firm's probate & estate planning practice has been named a Five Star Wealth Manager by HOUR Detroit and dBusiness magazines. Less than 7% of metro Detroit wealth managers are named to this list. Jones specializes in taxation and will preparation.
Tim Currier, CEO, along with partners Jeff Kragt and Frank Galgan, have been named to the annual Super Lawyers list. Only 5% of Michigan attorneys are included in this list. This is Currier's fifth consecutive inclusion on the list, and Kragt's second.